Volume XIX, Issue 51
The Greatest Gift
…by Chuck Graham
In my country, November and December are hectic times. We have Thanksgiving and Christmas. But if you look at how many spend most of their time, you will find that it is not about giving thanks or Jesus. It's about shopping.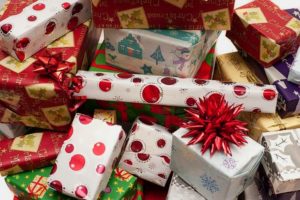 Black Friday. Cyber Monday. Green something or other. And marketing for these focuses on greed, envy, what we covet, and the things we're told we must have in order to be happy. Little is said about the true reason for this season.
Now there's Christmasketball…12 hours of basketball with bits of entertainment on Christmas Day. ESPN says, "We welcome fans to celebrate this special day of NBA action with us." 1 Nothing against the NBA, but that doesn't make the day special.
We do not make Christmas special…God does.
What's so special about the day? Look around. People are wandering in their private wilderness. Lost, homeless, jobless, or about to be. Hunger and sickness. Broken marriages and families. Grief and sorrow everywhere.
There is evil in the world, just as when Jesus walked this earth and the Disciples spread His word. Yet He tells us to love each other, even our enemies.2 He says people will hate us just because we follow Him.3 Still, He wants us to follow.
What we often forget this time of year is…what's so special about the day. Jesus came. To some He is a good person, to others a prophet. But to millions, He is the Messiah, Son of God, Son of Man, the One who came to save the world.4
Thank God every day for Christmas has come.
That makes Thanksgiving so important. The things we have to be thankful for may be different for each, but we all have one in common…that child in the manger…for whom we should thank our Heavenly Father every day.
But instead of daily thanks-giving for what is good,5 we often focus on the bad in the world. Living in the negative comes to define us. We grow less compassionate, less caring, less loving. And no one can tell that we are different.
Not to worry. On one special day Jesus came. He told us to love and showed us how. He made us His light so others can find Him. He was and is…the Greatest Gift. Thanksgiving should never end because Christmas never will.
Take care & be God's,
Chuck
Chuck Graham is Founder and Executive Director of Ciloa, an international ministry devoted to sharing God's encouragement and teaching how to encourage one another. Also an author and speaker, Chuck and his wife, Beverly, live in Lawrenceville, Georgia, USA. Learn more about Chuck and Ciloa at www.Ciloa.org .
Scripture References : (1) "ESPN and John Legend Invite Fans to Celebrate 'Christmasketball' by Kristie Adler, espnpressroom.com. (2) Read John 13:34. (3) Read John 16:33. (4) Read John 3-16-17 and 12:47. (5) Read Philippians 4:8.