Volume XIX, Issue 17
Never Give Up
…by Chuck Graham
1992 National League Championships. Atlanta Braves vs. Pittsburgh Pirates. In 1991 the Braves made it to the World Series. Now they were getting soundly beat. I gave up on the manager, players, and even myself as a loyal fan. Frustrated and disappointed, I went to bed.
My wife, however, stayed up. In the wee hours, she nudged me. "Braves won." Yeah right. But what if? I waited until she was asleep, then crept back to the den and saw the replay on TV. There it was!
The Braves' Francisco Cabrera hit a soft single. Sid Bream, slowest guy on the team, chugged around third base with every ounce of effort. He slid in home just as the ball arrived. The umpire signaled Safe! Braves win!!! All because Sid, the team, and manager never gave up.
What do we allow to dictate our future?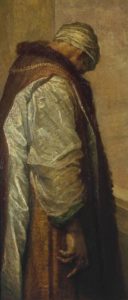 A man once asked Jesus what he must do to get eternal life. He claimed to obey the commandments and asked what did he lack. Jesus replied, Go, sell your possessions and give to the poor, and you will have treasure in heaven. Then come, follow me. But the man left sad, for he had great wealth. 1
Few read this and think of Sid Bream and the 1992 Braves. OK. I'm probably the only one. This passage is normally used to teach about earthly wealth, the treasure of eternal life, and what should be our priorities. But never let it be said that I'm normal. As I study this, I see another lesson.
This poor "rich" man (ironic, isn't it?) gave up. He gave up on himself, on others, and on God. On God because he took his eyes off the One who loved him. On others because he walked away from those who could encourage him. On himself because he allowed wealth to dictate his future.
God has never given up on you. So don't you give up!
At times we are like this man. We may be at work, in a classroom, at a store, or with friends. Then an opportunity to follow Christ comes along. We know it. We feel it. We hear God speaking to our hearts. Yet we turn and walk away…for there is something we value more than Jesus.
All of us have done that. Best friends, spouses, kids, parents…even pastors, preachers, ministers and priests. But we must not give up, especially not on each other! Often we need those who won't give up on us, especially when we've given up on ourselves and on God.
Never give up on yourself!-You have a place and purpose in the Kingdom of Heaven. Never give up on others.-We all need encouragement, especially when times are tough. Never give up on God.-From the beginning, He has known your name and He has never, ever given up on you.
…And surely I am with you always, to the very end of the age. 2
Take care & be God's,
Chuck
Chuck Graham is Founder and Executive Director of Ciloa, an international ministry devoted to sharing God's encouragement and teaching how to encourage one another. Also an author and speaker, Chuck and his wife, Beverly, live in Lawrenceville, Georgia, USA. Learn more about Chuck and Ciloa at www.Ciloa.org .
The original version of this Note was published April 16, 2012.
1. Matthew 19:16-22
2. Matthew 28:20b
Banner Shot: This incredible picture was by Chris Hamilton, Chris Hamilton Photography, www.HamPhoto.com .
1st Photo: Atlanta Journal Constitution file.
2nd Photo: For He had Great Possessions, 1894 portrait by George Frederick Watts.