Volume XIX, Issue 10
Love is a Verb. Live it!
…by Chuck Graham
In 2018 I read an article by Penn Jillette. 1 It was unsettling. Something within me cried out. And I listened as God chose to speak to me through one who doesn't believe He exists.
All I want…is kindness.
I used to be libertarian. I used to be atheist. I used to want America to be more atheist libertarian. All my voting, preaching, discussing and complaining reflected those desires. I'm still libertarian and atheist, and now I'm vegan to (pleather) boot, but none of that matters any more. I no longer care.
All I want out of America now is kindness. That's all. The past few years have filled too many of our friends and neighbors with hate, and it breaks my heart. Some people started acting hateful, crazy and nasty so that they could win, and then people who disagreed with them acted the same way. They disagree in content but agree wholeheartedly in tone.
So many of us now agree with the message of hate, and play "ideology" as team sports. The message doesn't matter when the medium is hate. My friends who work on TV, people I love personally, are using a tone and a meanness in their jobs that they never used before. Is hate where the money is? I don't know if fighting fire with fire actually works (who am I, Denis Leary?), but I do know that fighting hate with hate never works.
It makes me cry. I've read about family members not invited to Thanksgiving because of political disagreements! The Clash sang "anger can be power" and I believed it. Maybe I still believe it, but maybe I don't want power any more. Can't we replace the word "evil" with the word "wrong?" Everyone is wrong sometimes and nobody is evil ever. The America I want is kind to people who are wrong.
I'm like a dog, I don't hear words anymore, I just hear tone. Anyone whose tone is kind will get my complete support. Libertarian, Democrat, Republican, Socialist, Green . . . anything else you got. I've always been left out of team sports. I don't want to win enough. I'm not part of a team, I'm part of humanity. I want kindness. There's no other team for me. Let's love each other, and then discuss how to run our country together.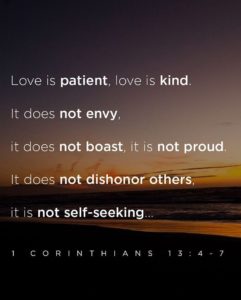 Let's love each other.
Love is patient and kind, not jealous, conceited or proud. It is never rude, selfish, easily angered or resentful. It does not rejoice at the wrongs of others, but seeks the truth. Love never gives up; and its faith, hope, and patience never fail. 2 Sound familiar?
Wherever we live, Mr. Jillette makes a point, especially for us who follow Jesus. Is love first in all we do? Do others see God's love in our words and actions? Do they find us different from the hate in the world? Because if we act like everyone else, we're not following Jesus at all.
Be different. Love is a verb. Live it!
Take care & be God's,
Chuck
Chuck Graham is Founder and Executive Director of Ciloa, an international ministry devoted to sharing God's encouragement and teaching how to encourage one another. Also an author and speaker, Chuck and his wife, Beverly, live in Lawrenceville, Georgia, USA. Learn more about Chuck and Ciloa at www.Ciloa.org.
1. Penn Jillette is a writer, television host, and half of the Emmy Award-winning magic act Penn & Teller.
2. Read 1 Corinthians 13:4-7.
Banner: Flickr/Mobili, Philadelphia Protests, January 26, 2017
First Photo: Francis George & Francis Baytan for The New York Times, July 19, 2017