Volume XXI, Issue 51
Do You Know The Child?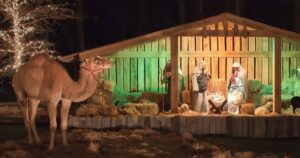 One Christmas a church decided to go all out with a live Nativity. There were sheep, goats, a donkey or two, even a camel. As adults in costumes appropriate for ancient Israel wandered about in the cold night air. A young family stood nearby.
The children begged to pet the animals. Mom looked hopefully at her husband, who shook his head. "No. They're filthy and we don't know where they've been. They could be dangerous." The children fell silent. Then someone said, "Excuse me."
Dad turned to see an old man eyeing the Nativity. "Who are they supposed to be?" the man asked. Dad frowned, "Well, those are shepherds, and there are Joseph and Mary." The man stared at the baby Mary was holding. "Do you know the child?"
Jesus, Immanuel…What's in a name?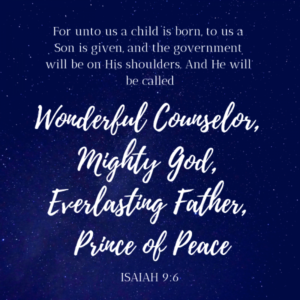 In ancient times, names meant more than what they mean today. The name was carefully chosen to tell of character, integrity, and destiny. By understanding a name, you would better know who a person was and often who they would become.
Think of that child lying in a manger in the very first Nativity. His name was not chosen by Joseph or Mary. A messenger from God commanded the child be named Jesus, which means the Lord saves, for that is what the child would do.1
Centuries earlier, the Prophet Isaiah wrote, The virgin will be with child and give birth to a son, and they will call Him Immanuel—which means, God with us…He will be called Wonderful Counselor, Mighty God, Everlasting Father, Prince of Peace.2
There is a Name above all names.
Think about that. Father, Son of the King, Counselor! Sound familiar? Jesus would later tell His disciples, to baptize in the name of the Father and of the Son and of the Holy Spirit. Why? Because He has all authority in heaven and earth.3 He is Mighty God with us.
If that wasn't clear enough, the Disciple John drove the point home about the one who was coming into the world. In the beginning was the Word, and the Word was with God, and the Word was God…In Him was life, and that life was the light of men.4
Son of God, Son of Man, Messiah, Christ, Savior, Master, Teacher, Lord, the Good Shepherd, The Way, The Truth, The Life, Lamb of God, Light of the World…Friend. Jesus would be called all these and more. His name truly is the name above all names.
But what about you. Do you know the child?
 
Ciloa Forever!
Chuck
Chuck Graham is Founder and Executive Director of Ciloa, an international ministry devoted to encouraging others and teaching them how to encourage one another. He is also an author and speaker. Chuck and his wife, Beverly, live in Lawrenceville, Georgia, USA. Learn more about Chuck and Ciloa at www.Ciloa.org.
Footnotes: (1) Read Matthew 1:19-22. (2) Read Isaiah 7:14;9:6. (3) Read Matthew 28:18-20. (4) Read John 1:1-4.
 
Pictures: Banner Photo: The Birth of Jesus, from The Nativity Story, New Line Cinema/Everett, 2006. 1st Photo: A Live Nativity, Depositphotos.com. 2nd Photo: Isaiah 9:6, by BroadMeadowFarm.ca. 3rd Photo: Video link to Sweet Little Jesus Boy by Casting Crowns, 2008.