Volume XXI, Issue 44
Hang On To Hope
There is an interesting Hebrew word in the Bible…tiqvah. It literally means a cord or rope, but its use refers to a great expectation that you grab hold of. Today the word is translated hope. When Job cries, "Where is my tiqvah?", he means he has nothing to hold on to, no expectation…no hope.1
Other Hebrew words build on this view of hope. The word seber strengthens the idea of expectation, while yachal adds the characteristics of patiently waiting and trusting. This is the hope David wrote so much about.
Be strong and take heart, all you who hope in the Lord.2 May your unfailing love rest upon us, O Lord, even as we put our hope in you.3 But as for me, I will always have hope; I will praise you more and more.4
Joyful, Trusting and Confident Expectation.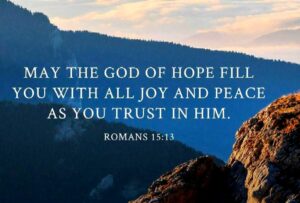 By the time Jesus walked this earth, hope had become firmly understood with yet another characteristic, found in the Greek word elpis…joyful anticipation with great expectation and confidence. This is the hope Paul wrote about.
We rejoice in the hope of the glory of God. We also rejoice in our sufferings, because suffering produces perseverance; perseverance, character; and character, hope. And hope does not disappoint us, because God has poured out his love into our hearts by the Holy Spirit, whom he has given us.5
If we hope for what we do not yet have, we wait for it patiently.6 May the God of hope fill you with all joy and peace as you trust in Him.7 We have put our hope in the living God, who is the Savior of all men, and especially of those who believe.8
Our hope is not in things, but in a person.
Today many are struggling with life. They long for the hope Paul spoke of. They want to cling to that cord of hope Job also desperately wanted. As disappointment, frustration and sorrow grow, confidence fades and perseverance seems impossible.
Paul saw this, too. That is why he did not speak of hoping in things, but in a person — Christ Jesus. Things come and go, but Jesus…His mercy, forgiveness, and love…are forever. It's hard to have hope when we focus on this life, forgetting about the next.
So…how is your hope these days? Could it use more joyful confident expectation? Look to Jesus. Learn all you can about Him. Cling to Him and hold on tight. As Paul encouraged his friend Titus, the truth will lead you to faith and knowledge resting on the hope of eternal life.9
Ciloa Forever!
Chuck
Chuck Graham is Founder and Executive Director of Ciloa, an international ministry devoted to encouraging others and teaching them how to encourage one another. He is also an author and speaker. Chuck and his wife, Beverly, live in Lawrenceville, Georgia, USA. Learn more about Chuck and Ciloa at www.Ciloa.org.
Footnotes: (1) Read Job 17:15-16. (2) Read Psalm 31:24. (3) Read Psalm 33:22. (4) Read Psalm 71:14. (5) Read Romans 5:1-5. (6) Read Romans 8:24-25. (7) Read Romans 15:13. (8) Read 1 Timothy 4:10b. (9) Read Titus 1:1-2.
 
Pictures: Banner Photo: Hanging On, iStock. 1st Photo: A Strong Grip by Lars Hollstrom, Shutterstock. 2nd Photo: Romans 15:13, iDisciple.org. 3rd Photo: Video link for You Keep Hope Alive, featuring Jon Reddick, Church of the City.