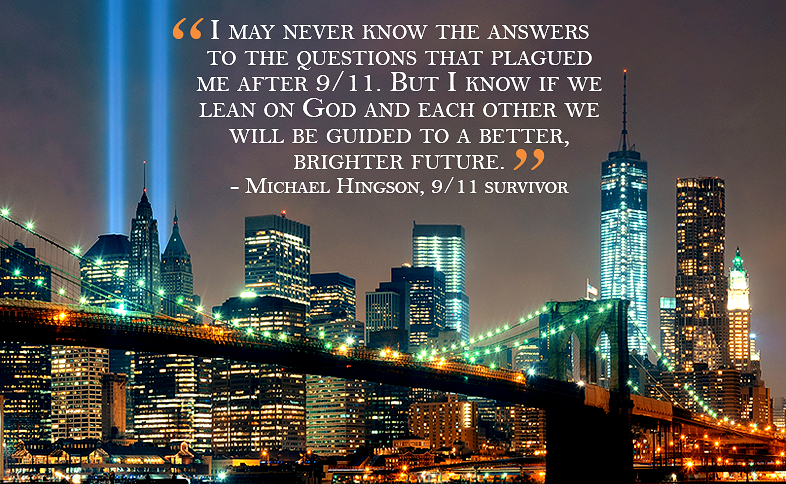 Volume XXI, Issue 36
Hope Lives On!
In the midst of the tragedy that struck the United States on 9-11-2001, hope lived on. When the world watched in horror the aftermath of the terrorist attack, hope lived on. As the media reported on the lives and families forever changed, hope lived on.
I wanted to help…especially to reach out to those waiting to hear news of their loved ones who had been at the WTC. 1 The opportunity came when the U.S. Federal Emergency Management Agency asked for help in locating the many missing people.
My employer set up a call center where I volunteered to gather cell phone and pager numbers from families and friends. 2 The information was then used in an attempt to signal the devices and, with special technology, locate the devices and hopefully their owners. 3
I have peace in God alone for my hope is in Him. 4
I listened to caller after caller, amazed by their composure and gratitude for my help. Each of them was looking for some small thread of hope…hope for news of a miracle, hope that their loved one would be found alive. And I would think about their stories.
A woman who knew her husband's fire station would have been first on the scene… before the Towers fell. A wife of a business man who had been attending a meeting at the WTC. A sister who kept calling her brother's cell phone just to hear his voice.
A friend calling for an invalid woman whose daughter worked at the WTC. A woman who had been talking with her friend at the WTC early that Tuesday morning. A coworker who received a page from his boss to see if he was okay, but the boss wasn't heard from again.
These are only a few of the people I spoke with during my nine hours of answering calls. And I longed to give them the hope they were searching for.
Joyful in hope, patient in trouble, faithful in prayer. 5
Then I had another opportunity. On Saturday, 9-22-2001, I met a group of believers on top of Stone Mountain, just outside Atlanta, Georgia. For three hours, we talked…we shared…a rabbi blew the shofar…and we, friends, strangers and tourists alike, prayed together. 6
During this time, a young girl reminded me just how to give others the hope they long for. She boldly reached out to others on that Mountain, sharing her faith in Jesus Christ…the only true Hope for mankind. The Hope that never lets us down.
It has been 20 years since that terrible day. There have been more tragedies, heartaches, sorrow and death. And yet, Hope lives on. Will you share the true Hope with someone today?
May the God of hope fill you with all joy and peace as you trust in Him, so that you may overflow with hope by the power of the Holy Spirit. 7
Beverly
 
Beverly Graham, a former engineer and planner in the telecommunications industry, is Ciloa's Chief Financial Officer, member of the Board of Directors, and person primarily responsible for keeping her husband, Chuck, in line. Beverly and Chuck have 5 children, 2 adorable grandchildren, and live in Lawrenceville, Georgia, USA.
               The original of this Note was first published on October 1, 2001. 
Footnotes: (1) WTC refers to the Twin Towers of the World Trade Center in New York Center. (2) In 2001 I worked from BellSouth Telecommunications, later acquired by AT&T. (3) The technology was similar to GPS (Global Positioning System) used today. (4) Read Psalm 62:5. (5) Read Romans 12:12. (6) What became known as Prayer on the Mountain was spearheaded by Chuck Graham (Founder and Executive Director of Ciloa) and was joined by Rabbi Scott Sekulow (the Messianic Rabbi of Beth Adonai in Atlanta, Georgia). (7) Read Romans 15:13.
 
Pictures: Banner Photo: A Better, Brighter Future by Michael Hingson, Guideposts. 1st Photo: Two Women on 9/11, Ernesto Mora/AP. 2nd Photo: A call center after the 9/11 attacks, CBS/AP. 3rd Photo: NYC Skyline With Freedom Tower by Antonio Bartuccio.