Volume XXI, Issue 10
Pour Into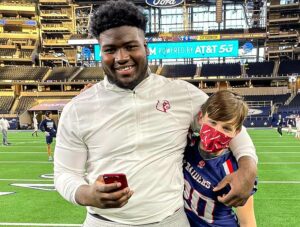 I recently saw an interview of Keithian Alexander.1 Growing up he saw a lot of bad stuff. Violence. Death. Addictions. It was easy to get into trouble, make bad decisions and hang with the wrong crowd. He was on a path many had taken.
Enter Toby Jones, coach and math teacher. He saw Keithian and knew where he was headed. So Coach Jones pulled him not just aside, but into his life. He cared for him, made him part of his family and gave him a better path to follow.
Keithian's life has changed. He is happy, works hard in school, and is a top high school football player in the US. When asked what he would do after football, he said, "I anticipate being a teacher, pouring into kids like I was poured into."
God has poured His love into your heart…
That whole "pouring into" idea is the calling each Christian has. Paul once wrote, Hope does not disappoint us, because God has poured out His love into our hearts by the Holy Spirit, whom He has given us.2
God pours His love into us by filling us with the Holy Spirit. And look what we receive…faith, grace, mercy, joy, peace, compassion, patience, kindness, goodness, faithfulness, gentleness, self-control, perseverance, character, and hope.
We see all of this in Jesus who poured out His life for us.3 But it does not stop there. He called us to love each other, our neighbors, and even our enemies. So God has poured into us His love. Now we must pour that same love into others.
…so that you can pour it into someone else.
Pouring into someone's life is a wonderful experience. For me it's about encouraging. Helping others know our Heavenly Father more intimately, follow His Son more closely, hear His Spirit more carefully, and maybe write a Note or two.
Jesus said what we do for His brothers and sisters, we do for Him.4 His love pours through us and into…the broken, the sick, the hurting, the grieving, the lonely, the depressed, the worried, the fearful, adults who think they know their future and kids who haven't a clue.
Who are you pouring your life into? Who is receiving God's love through you? Remember, God is the one at work here…both in you and through you. All you have to do is be willing.
Ciloa Forever!
Chuck
Chuck Graham is Founder and Executive Director of Ciloa, an international ministry devoted to encouraging others and teaching them how to encourage one another. He is also an author and speaker. Chuck and his wife, Beverly, live in Lawrenceville, Georgia, USA. Learn more about Chuck and Ciloa at www.Ciloa.org.
Footnotes: (1) "Big Bear Alexander" by Jeff Sentel at BigBearAlexanderInterview (2/26/2021). (2) Read Romans 5:5. (3) Read Matthew 26:28. (4) Read Matthew 25:37-40.
 
Pictures: Banner Shot: Dreamstime.com. 1st Photo: Bear Alexander/Instagram. 2nd Photo: Shutterstock.com. 3rd Photo: Shutterstock.com.