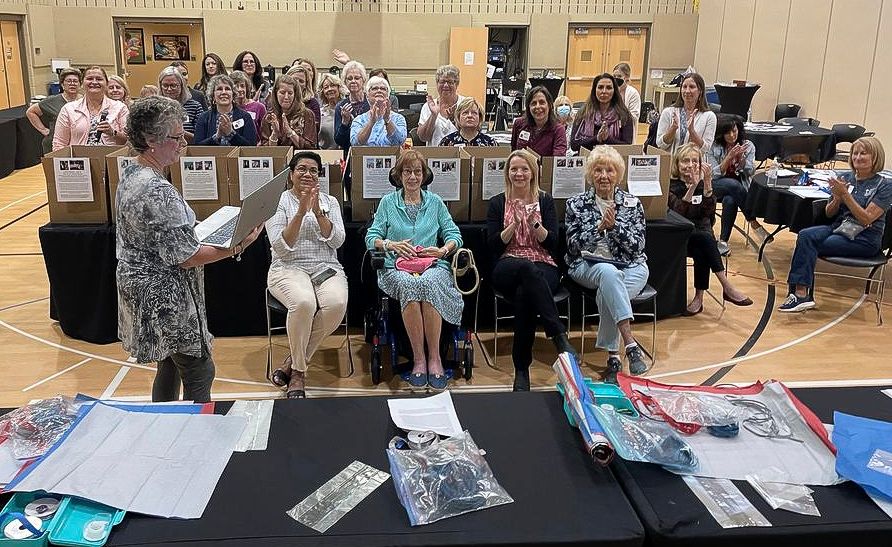 Volume XXII, Issue 40
Quite a Party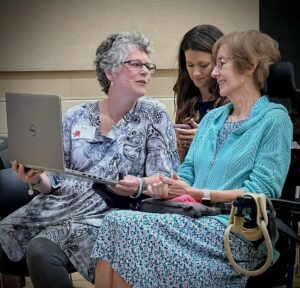 For over a year now, Ciloa has partnered with Blessing Love Box to bring encouragement and comfort to People with ALS (PALS), 1 their families, friends and caregivers. Much of the focus is on the boxes themselves, each filled with items to help PALS.
These boxes are not cheap, but each comes as a loving gift from people who care, people the PALS have never met. The boxes are also a loving surprise. For those receiving a box do not know what is inside until they open it.
On Saturday, September 25, 2022, the latest Packing Party was held. They have usually been in homes scattered across North Georgia, but this one was at Wheaton Bible Church in West Chicago, Illinois, the home church of Sharon Cowell. 2
God brings about good even from a deadly disease…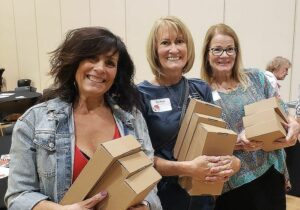 Many were at the event. Others joined by Internet. 3 We heard gratitude from those who had received a Box and learned of ten PALS who would soon be surprised with their own. It warmed my heart to see the smiling faces, happy tears, warm hugs…and I got to thinking.
This wonderful effort that brought such joy and thanksgiving was formed in the depths of pain, grief, and sorrow. We know that God causes everything to work together for the good of those who love God and are called according to his purpose for them. 4
That verse came to life as I watched. You see, no one survives this terrible disease. And yet, here were all these people…in person and online…wrapped in the love and encouragement of our Heavenly Father and those who love Him.
…bonding strangers together to love and encourage.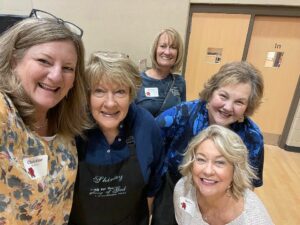 So often when hope seems lost, depression settles in and we become emotionally, even spiritually, paralyzed. We draw inward and see nothing but our own dire circumstances. So what is different about those attending the Packing Party?
They are committed to praying. Not just for themselves and not just for PALS, but for everyone — PALS, their families, friends, caregivers, the volunteers of Blessing Love Box, Ciloa, Wheaton Bible Church, and ALS Family of Faith. Everyone!
That kind of prayer is among the purest we can utter. We set aside our own wants to focus on the needs of others. And we all benefit! Faith grows stronger. Love grows stronger! And God works through us in ways we could never have imagined.
Ciloa Forever!
Chuck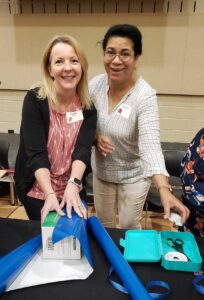 This Note is dedicated to all who have given their time, resources, financial support, advice, wisdom and prayers in making the Blessing Love Boxes a reality, and especially to all who have received
A Loving Surprise.
Chuck Graham is Founder and Executive Director of Ciloa, an international ministry devoted to encouraging others and teaching them how to encourage one another. He is also an author and speaker. Chuck and his wife, Beverly, live in Lawrenceville, Georgia, USA. Learn more about Chuck and Ciloa at www.Ciloa.org.
 
Footnotes: (1) PALS stands for People with ALS (Amyotrophic Lateral Sclerosis, also known as Lou Gehrig's Disease). (2) My buddy Sharon Cowell has used her own experiences with ALS to write the excellent devotional A Living Savior, which I highly recommend to any seeking to go deeper in their relationship with God. (3) Ciloa's Board of Directors well represented by Ann Chastain, who is also Co-Founder of Blessing Love Box and led the event. Randy Brittain (Chairman of the Board), Beverly and I attended via the Internet. (4) Read Romans 8:28.
Pictures: All pictures provided courtesy of Ann Chastain and Blessing Love Box.