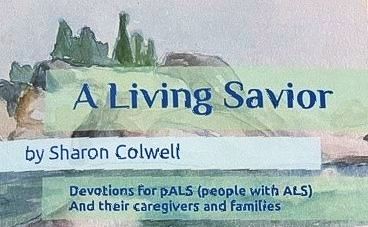 Volume XXII, Issue 21
Outside The Box: Part 2…Sharon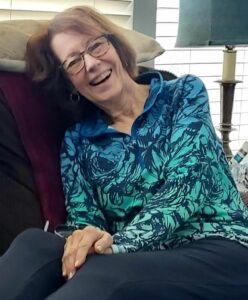 I've found that the more I follow God, the more I get to be a part of something amazing. He creates the circumstances, moves the right people into position, and opens doors. All I have to do is trust Him completely…and walk into the scary unknown. 1 For example…
When He said, Leave your job and start a new firm…with no clients. Or the time He told me, Write a book…which I'd never done. Or that day He urged me, Stop what you're doing and encourage people…though I'm a devout introvert. And every time…amazing!
On January 5, 2022, I received an email from Ann about connecting with Sharon who had written a devotional for pALS…people with ALS. 2 Sharon was wondering if the awesome Chuck Graham might be willing to read her manuscript and possibly endorse it. 3
Our Father comforts us so we can comfort others…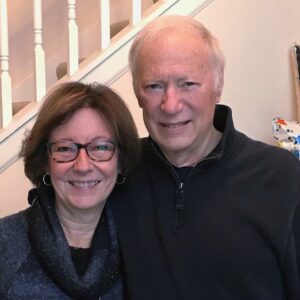 Soon I was reading A Living Savior and was so taken with what Sharon had written that I not only agreed to endorse her book, I volunteered to serve as editor. And so began our adventure studying, reviewing, and revising as emails traveled back and forth.
I learned a lot about Sharon in the process. She had held core leadership roles in her church and community, volunteered and served others, led small group Bible studies, taught, coached, and mentored. And she's married to Tom. But there's something else you should know.
Sharon has ALS. Yes, the woman who wrote an incredible devotional for her pALS has that horrible disease, too. But how could someone in such a "hopeless" situation give hope to others? It's because her hope is not in a wishful cure. Her hope is in a living savior.
…with the comfort we have received from Him! 4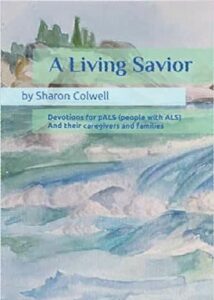 A Living Savior combines Sharon's extensive knowledge of the Bible, her experiences of living with ALS, and her unbridled love of Jesus to share an uncommonly open and honest journey through anger, grief, and emotional pain, leading us to the overwhelming love of Jesus.
But this book is not just for those in terrible situations. A Living Savior is for all of us! (By the way, neither I nor Ciloa receives anything from the sale of the book, except the satisfaction of knowing Sharon will introduce you to a Jesus you may never have known.)
As I said, God has allowed me to be a part of some amazing things and meet some amazing people. Being a part of this project and helping Sharon has been among the most amazing of them all. Check out A Living Savior at https://amzn.to/3K0vy2V. You will be very glad you did.
Ciloa Forever!
Chuck
Chuck Graham is Founder and Executive Director of Ciloa, an international ministry devoted to encouraging others and teaching them how to encourage one another. He is also an author and speaker. Chuck and his wife, Beverly, live in Lawrenceville, Georgia, USA. Learn more about Chuck and Ciloa at www.Ciloa.org.
Footnotes: (1) Easy, right? (2) Ann is the same Ann in the Note of Encouragement Outside the Box: Part 1…Ann and Kay which you can read on the Ciloa website. ALS refers to Amyotrophic Lateral Sclerosis, also known as Lou Gehrig's Disease. (3) I may have added the awesome part. (4) Read 2 Corinthians 1:3-4.
Pictures: Banner: From A Living Savior book cover. 1st: Sharon Colwell, photo by Jan Schuh. 2nd: Sharon and Tom Colwell, photo by Christine Dille. 3rd: A Living Savior paperback book cover featuring The Living Water, a watercolor painting by Sharon Colwell.