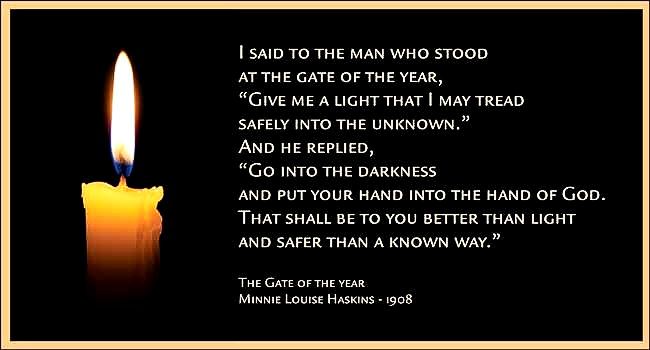 Volume XXII, Issue 1
For All Is New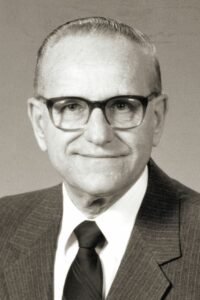 Just before Christmas of 2010, I received the annual Christmas Letter from Bill and Naomi Hunke.1 Inside was something Naomi had written a few years earlier, and I immediately knew that God wanted me to share it…both then and now. Read carefully and listen to her encouraging wisdom.
May God bless your New Year.
God has given you another year – a new year of promise – of His presence, protection, provision, power, and purposes. Your year beckons and abounds with fresh new possibilities, challenging assignments, and difficult decisions that require the divine discernment of God's Spirit. This is your day of clean slates and fresh starts, for remembering God's faithfulness and forgetting past failures. Don't mope over last year's mistakes, but look ahead with anticipation and confidence: "Forgetting the past and reaching forth to the future walk daily by faith in the love, forgiveness, and strength of God."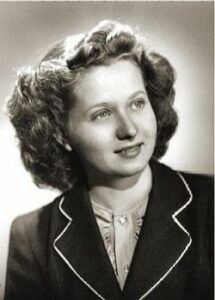 "Life is like the rapidly vanishing light of a winter sunset, like a puff of steam from a boiling kettle, or like grass which grows in the morning and is cut down in the evening." It's not how long you live that adds up, but how you live. You will never have a non-sacred moment while you live in awareness of His presence. Settle accounts today – you can't bank on tomorrow.
There are no little things in life.
Never despise little things. Scientists say one pebble thrown into a pond forever affects the earth's center of gravity. Physicists say that every word spoken will forever be heard. Psychologists say that every experience of life helps determine destiny. Theologians say that every sin must be accounted for in the presence of God. Should you not heed and rejoice, because Jesus says that even a cup of cold water given in His name will not lose its reward?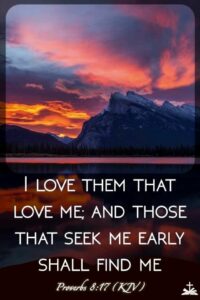 Never waste time by wondering if your life has meaning or worth. The fact that Christ died for you means you're worth everything to God, for His dearly beloved Son represents the costliest treasure God could pay for your redemption. What you do to honor Jesus will measure your success this year. Remember that kneeling keeps you in good standing with God.
Seek God and you will find Him.
Try summing up the unsearchable riches of Christ (Eph. 3:8); the unfathomable riches of His grace (Eph. 1:7); the riches of His glory (Rom. 9:23); the riches of His goodness (Rom. 2:4); the riches of full assurance (Col. 2:2,3); the riches of the wisdom of God (Rom. 11:33); and the riches of the glory of His inheritance (Eph. 1:18). What more could you want for eternity?…Grace to you.
I love being a child of the Father. He never ceases to amaze how He brings to me His messages and so many wonderful brothers and sisters. May we find each day a new day…to walk in the light…encourage each other…and love as Jesus has loved us.
Ciloa Forever!
Chuck
          Dedicated to my friends Naomi Ruth Hunke (1929 – October 14, 2009)
               and E. William "Bill" Hunke, Jr. (1924 – October 31, 2016)
Chuck Graham is Founder and Executive Director of Ciloa, an international ministry devoted to encouraging others and teaching them how to encourage one another. He is also an author and speaker. Chuck and his wife, Beverly, live in Lawrenceville, Georgia, USA. Learn more about Chuck and Ciloa at www.Ciloa.org.

Footnotes: (1) In the early 1980's God led me to Bill and Naomi Hunke, an older couple who would greatly influence my life. Though none of us knew it at the time, they laid the foundation in me for Ciloa which would not begin until many years later. Bill and Naomi truly walked with God and together they started churches in Alaska, Arizona, California, Georgia, Utah and across Canada. Bill wrote several books and held many ministry positions. Somehow Naomi found time to attend Pacific Bible Institute, Fresno State University and Arizona State University, earning Masters degrees in English literature, Education and Sociology. She taught at colleges and universities, wrote four books and contributed to various Christian publications. In 2002 they were named Arizona Volunteers of the year. And they were my friends.
 
Pictures: Banner Photo: The Gate of the Year, poem by Minnie Louise Haskins 1908. Image by Bangsar Gospel Centre, Kuala Lumpur, Malaysia. 1st Photo: Bill Hunke, Baptist Press. 2nd Photo: Naomi Hunke by Jimmy P. Hunke. 3rd Photo: Proverbs 8:17, creator unknown.