Volume XX, Issue 42
Get used to different
In The Chosen1 there is a special scene about Matthew. He is a tax collector who takes money from the Jews. He follows Rome and is hated by his own people. Yet Jesus calls Matthew to follow Him, a choice which angers Simon.
What are you doing? Do you have any idea what this guy has done? Do you even know him? Yes. I don't get it. You didn't get it when I chose you, either. But this is different. I'm not a tax collector. Get used to different.2
 
"Get used to different." I like that. While those exact words are not in the Bible, this was clearly the message Jesus was giving to all who follow Him…both then and now. But just how different is the life to which He has called us?
 
Following Jesus will make us different.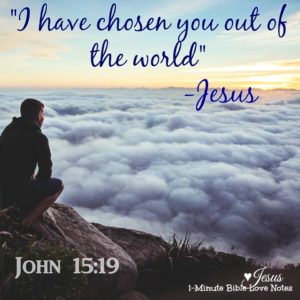 What is your world like? These Notes of Encouragement are shared in 186 countries, from the rich and to the poor, those with everything to those with nothing, followers of many religions to those of none. Many lands, cultures, and beliefs.

Different can mean many things if the world defines it. Jesus took a new direction. He defined different with just two words. Follow me.3 For those who did, their lives were transformed, set apart from the world's demands and expectations.
 
They left their comfort zones to befriend, care for, love and encourage sinners, criminals, the poor, the sick…those deemed by government, culture and religion as worthless. They became humble, placing the needs of others above their own.
 
And we are called to make a difference.
 

In much of the world, talk has replaced action. Words are used to get…votes, loyalty, money…rather than give…care, compassion, encouragement. They tear people down, instead of building them up. No mercy. No forgiveness. No love.
 
Do you visit the sick, elderly or those in jail? Do you give food, clothes or shelter to those with nothing? Would you speak with a thief, prostitute, or murderer? Would you be their friend? Jesus did. His followers did. And they still do!
 
Tell me, are you truly different? Do you want to be? Then follow Jesus. There is a lot you would give up. But what you will gain is far greater and more lasting.4 Yes, following Jesus is different. Get used to different.
Ciloa Forever!
Chuck
Chuck Graham is Founder and Executive Director of Ciloa, an international ministry devoted to encouraging others and teaching them how to encourage one another. Also an author and speaker, Chuck and his wife, Beverly, live in Lawrenceville, Georgia, USA. Learn more about Chuck and Ciloa at www.Ciloa.org.
Footnotes: (1) The Chosen, a series on the life of Jesus, His Disciples, and those who followed Him, created and directed by Dallas Jenkins (2020). (2) From Season 1, Episode 7 of The Chosen. (3) Read Matthew 9:9. (4) See Footnote (2).
 
Pictures: Banner Shot: Still of Matthew, portrayed by Paras Patel, The Chosen (2020). 1st Photo: Still of Simon arguing with Jesus, portrayed by Shahar Isaac and Jonathan Roumie, The Chosen (2020). 2nd Photo: Image of  a portion of John 15:19, from 1-Minute Bible Love Notes. 3rd Photo: Still of Jesus calling to Matthew, portrayed by Jonathan Roumie, The Chosen (2020).