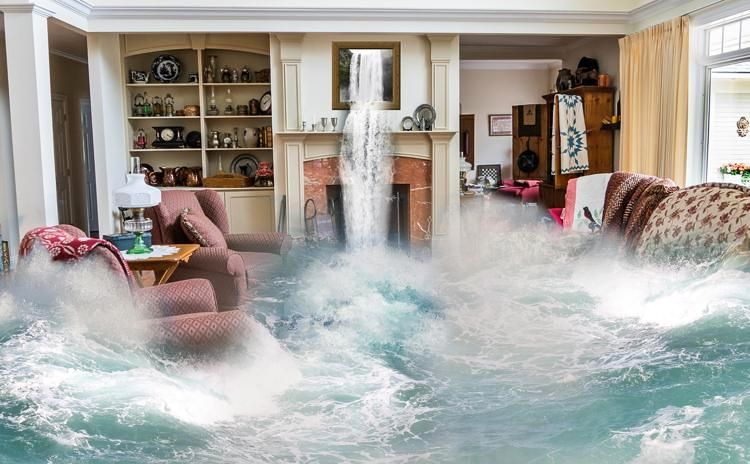 Volume XX, Issue 40
The Timing of Things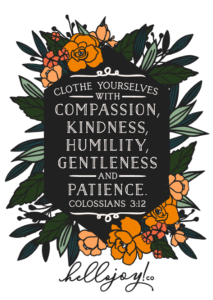 Often I want God to "do something" now or today or as soon as possible. Am I the only one? I don't think so, otherwise He would not have so much about patience in His Word.1 Being patient is hard, so He painted me a picture of His perfect timing.
 
Early one morning I was startled awake by our son. "Mom, water's leaking through the ceiling in the family room!" My husband, Randy, jumped up and hurried off, leaving me to wonder, Where am I? What time is it? Why is someone showering in our bathroom?
 
Then other questions flooded my mind. What's broken? Where's the water coming from? Is anything ruined? What will it cost to get this fixed? The best thing I could do was not to get in the way. So, I stayed in my warm, comfy bed and prayed.
 
Patience in God's timing needs prayer.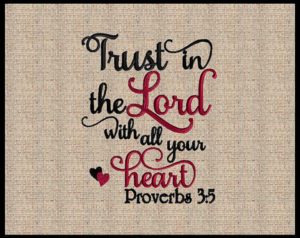 Father, I don't know what we can do or how we will pay for it. So I put it all in Your Hands. This house, the people who live here, and every penny we have is Yours. You have a solution. So please help us stay calm and handle this difficulty with grace.2
 
After the water was turned off, I went downstairs and peeked in the family room. Furniture huddled in the center. The mantle was emptied. Towels were everywhere. And the ceiling was very wet. Wow, look at all I missed while I stayed in bed to pray!
 
The water was off for the entire house. No water?! Thankfully, I'd put water in the coffee maker the night before. So I made coffee and put dishes in the dishwasher. Oh yeah, no water. Know how many times you turn on the faucet when you have no water? Lots.
 
God's timing is all about trusting Him.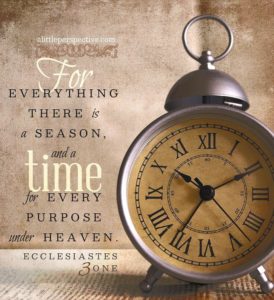 Later our contractor came over to help us out…on Sunday morning! He couldn't go to church knowing we were sitting at home without water. What a guy! After a long afternoon of ladders, drywall, cabinets, flashlights, and pipes, the problem was solved.
 
The culprit? A nail had pierced a copper pipe…the year before! Catch that? The water could have leaked immediately or during Thanksgiving or the days we were in California or at spring break or on our summer trip or just while at work and school.
 
At any time our house could have flooded. But that was not God's timing. Maybe because He knew we would be home, our son would be awake, and Randy would shut off the water and save our house. Maybe He knew our contractor would be willing to help.
 
I really don't know, but I know God knows. And I trust His timing.3 Do you?
Lisa
Lisa Brittain and her husband, Randy, live in Lilburn, Georgia, with their three puppies…Nole, Liberty, and Victor. Follow Lisa's blogs and current events at EyesOnJesusAndShine. And check out her book, 31 Days of Gleaning with Ruth–Questioning My Way Through a Famine Season, available now on Amazon.com.
Footnotes: (1) Read Colossians 3:12: Therefore, as God's chosen people, holy and dearly loved, clothe yourselves with compassion, kindness, humility, gentleness and patience. (2) Read Proverbs 3:5: Trust in the Lord with all your heart and lean not on your own understanding. (3) Read Ecclesiastes 3:1 There is a time for everything and a season for every activity under heaven.
 
Pictures: Banner Shot: .Created by AZ Big Media 1st Photo: Poster of Colossians by Hello Joy!, Encouraging Wednesdays, hellojoyco.com. 2nd Photo: Embroidery by Alice Stewart, etsy.com. 3rd Photo: Ecclesiastes 3 One, by alittleperspective.com.