One of my favorite verbs in the Bible is "let". Such a powerful three-letter word! It is amazing how many times this verb appears as the critical part of a command.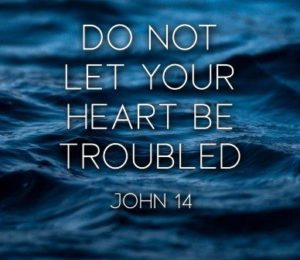 The primary definition of "let" in a command is to cause to; make. There are commands about anger, unwholesome talk, fear, and many more. Each focuses on choice that brings about a specific result.
The command I have most struggled with concerns trust. Jesus said, Do not let your hearts be troubled. Trust in God; trust also in Me.1 Notice He didn't say, "It sure would be nice if your hearts weren't troubled." No! He commanded, "Do not let…" Jesus was telling us not to make our hearts be troubled.
Jesus' commands are about what is possible.
If we can make our hearts be troubled, then we can make our hearts not be troubled. It is a mind-thing…a decision, a choice…to bring about a specific result. We have to consciously make our minds stop thinking those troubling thoughts.
Then we must focus on trusting in Him, remembering what the Bible says He can do and what we've personally experienced Him do. But how on earth can we make our minds do this?
Jesus never commands us to do anything that is impossible to accomplish. When we accept Him as our Lord and Savior, He quite effectively gives us an all-inclusive "survival kit". We find it in Fruit of the Spirit2 …love, joy, peace, patience, kindness, goodness, faithfulness, gentleness and self-control.
Wait a minute…what was that last one?
I can do everything through Jesus!
Self-control! That is how we can make our minds stop thinking troubling thoughts and instead focus on our trust in Him. We can deliberately tap into the self-control that He has put inside us, allowing it to surface and be used by Him to win the battle over our minds.
No wonder God put all those "lets" in the Bible. He knew He had made it perfectly possible for us to obey them…not by our own power, but by His. And He knew the more we obeyed, the more His love and peace would flow through us and onto others. A win-win for the Kingdom!
John 14:15 + Matthew 28:20 = Philippians 4:13
                      If you love me, you will obey what I command + I am with you always =
                           I can do everything through Him who gives me strength.
I love Jesus. I trust Him. Do you?
Susan
Susan Paradise is a former member of the Ciloa Board of Directors. She and her husband, Fred, live in Greensboro, Georgia, USA, where she has a ministry devoted to helping hurting women.
Footnotes: (1) Read John 14:1. (2) Read Galatians 5:22-23.
Pictures: Banner Photo: Sad Woman Silhouette Worried At Sunset, by Sasin Tipchai; 3rd Photo: God's Glory at Lake Oconee, by Susan Paradise.