Volume XX, Issue 4
Be A Hero
I recently had the flu for 3 weeks. Terrible congestion, coughing, sneezing, headaches…you get the idea. I had so much trouble focusing that I did very little work.
On the plus side, I got to watch a LOT of animated movies with my grandkids, Henry and Violet. (And no, I wasn't concerned they would get the flu because they were the ones who gave it to me.)
One day I previewed Rango1 to see if it was suitable for a 7 and 4-year-old. It was my duty to protect Henry and Violet! (At least that's what I told their mother.) But then God began to talk to me.
The movie was at a critical point. Rango, imagining he's speaking with the Spirit of the West, admits he had been looking to be something he was not…a feared gunslinger. And people had been hurt.
You can't walk out of your own story.
Rango: …my deeds just made everything worse. I'm a fake, a phony. My friends were counting on me. They were looking for some sort of hero.
The Spirit: Then be a hero!
Rango: Oh, no! No, no. I'm not even supposed to be out here.
The Spirit: That's right. You came out here looking for something that didn't exist. But don't you see? It's not about you…it's about them.
Rango: But I can't go back.
The Spirit: Don't think you have a choice, son. No man can walk out of his own story.
The one who follows God is a hero to all.
Ever had a similar conversation with God? You hear of loving, encouraging, and caring for others. You get excited. Then you see those who are hurting…and He nudges you to do something.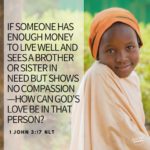 No, no! In church I thought I could, but I can't do that. I can't love and encourage them. I can't take care of them. I don't know how. I'm a fake, a phony. I'm not even supposed to be out here.
That's a lot of "I can't" there. But like The Spirit told Rango, "It's not about you…it's about them." And it's about God working through you to love, encourage, and care for them.
Is God nudging you to reach out to others? What is He calling you to be? I know. Be a hero!
Ciloa Forever,
Chuck
Chuck Graham is Founder and Executive Director of Ciloa, an international ministry devoted to sharing God's encouragement and teaching how to encourage one another. Also an author and speaker, Chuck and his wife, Beverly, live in Lawrenceville, Georgia, USA. Learn more about Chuck and Ciloa at www.Ciloa.org.
Footnotes: (1) Rango, Paramount Pictures, Nickelodeon Movies, Blind Wink Production, 2011.
Pictures: Banner Shot: Photo by Harsha K R, Flickr, mynameisharsha; 1st Photo: Spirit of the West, drawing by Aaron McBride, copyright 2011, Paramount Pictures; 2nd Photo: by Francisco Moreno, unsplash.com; 3rd Photo: poster by Way-FM, wayfm.com.