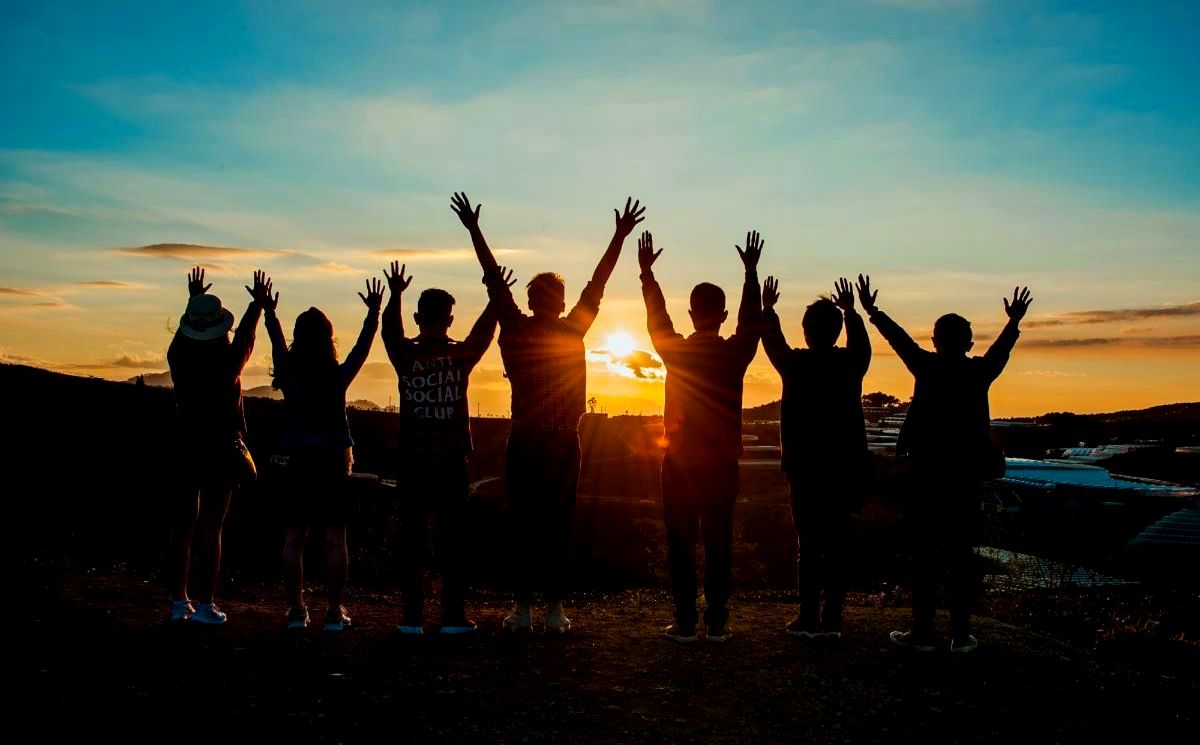 Volume XX, Issue 20
He is with us! He is for us!
People need encouragement when trouble comes. Especially now, billions cry out for comfort and assurance. In Ciloa we see this every day and do our best to encourage them. It's why God created this ministry. But it is very tiring.
Recently after a long day of "encouraging one another", I saw a video created by Lilburn Alliance Church, a congregation not far from where I live.1 Choir members were singing a song I'd never heard…The Blessing.2 (I've been busy.) (See the Video here)
The singers poured their hearts into that song. Familiar words danced upon a beautiful melody, gaining power with each passing refrain. And with tear-filled eyes, I was swept along in God's blessing of encouragement.
We all need encouragement, even me.
When I first heard The Blessing, I was exhausted. We had begun sharing the Notes of Encouragement with a new set of churches, ministries, and groups on Facebook. To our surprise, our reach grew by almost a million people.
That resulted in hearing from even more people who desperately need God's encouragement. But in trying to encourage them, I forgot I, too, needed encouragement. Thankfully, God had not.
I've now heard The Blessing many times, in many languages, and from many people in many countries.3 All are filled with joy and purpose. Each time I'm filled with God's love and encouragement for you and for me. And, yes, there are still tears.
God blesses those who love and follow Him.
Inspiration for the song comes directly from the Bible. There's God's blessing for His people and His love for those who follow Him.4 We find the gift of the Holy Spirit within us and His promises always to be with us and for us.5
Beginning Monday and throughout the week, we will post on Ciloa's Facebook page (Click Here) different groups from around the world singing The Blessing. Check them out. Listen to their hearts. See their joy.
The Blessing is for those who love God and those whose hardened hearts will soften and heed His call to follow Him. As you listen…may you be blessed by His love, encouragement, and the Hope He offers.
Ciloa Forever,
Chuck
Chuck Graham is Founder and Executive Director of Ciloa, an international ministry devoted to encouraging others and teaching them how to encourage one another. Also an author and speaker, Chuck and his wife, Beverly, live in Lawrenceville, Georgia, USA. Learn more about Chuck and Ciloa at www.Ciloa.org.
Footnotes: (1) Lilburn Alliance Church is located in Lilburn, GA, USA. (2) The Blessing, Elevation Worship/Steven Furtick/Chris Brown/Kari Jobe/Cody Carnes, 2020. (3) Argentina, Australia, Brazil, Canada, Chile, Columbia, Costa Rica, England, France, Guatemala, Germany, India, Indonesia, Iran, Kazakhstan, Mexico, Netherlands, New Zealand, Nigeria, Northern Ireland, Papua New Guinea, Paraguay, Peru, Philippines, Portugal, Russia, Scotland, Singapore, South Africa, South Korea, Trinidad and Tobago, United Arab Emirates, United States, Venezuela, Wales, Zimbabwe.(4) Read Numbers 6:24-46, Exodus 20:6, Deuteronomy 7:9. (5) Read Joshua 1:9, Matthew 28:20, 1 Corinthians 3:16, Galatians 4:6, Deuteronomy 4:31, Psalm 22:24, Philippians 4:13.
Pictures: Banner Photo: A New Dawn. 1st Photo: Every Nation Auckland City, Auckland, New Zealand. 2nd Photo: Billy Graham Evangelistic Asso., Hanoi, Vietnam. 3rd Photo: Billy Graham Evangelistic Asso., Pachuca, Mexico.