Volume XXIII, Issue 44
Give God Your Expectations
Know This…It is totally ok if you wave the white flag every now and then, call a "time out", disconnect, pull the plug for a bit, or just "be still".
---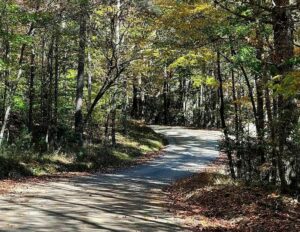 These wise words come from Shane Hale in his wonderful Note of Encouragement Time Out. 1 Recently Beverly and I took them to heart and decided we were in desperate need of a break. Why?
Ciloa is very demanding and time consuming. We also help care for our mothers, of which Beverly has the lion's share, especially with the many doctor appointments. And there's the caring about and praying for each other, our children, and friends as we all navigate through life's twists and turns.
Don't get me wrong. We are thankful and blessed to be able to do all of this. It comes with that "Love one another" deal. But as Shane says, at times we all need a time out to disconnect, if only just to be still. So we rented a cabin in the North Georgia mountains…and our adventure began.
Disconnect from your expectations…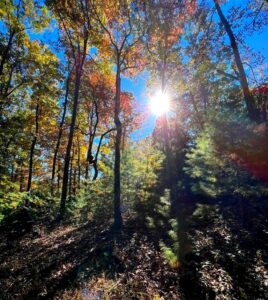 I had great expectations…brilliant Fall colors 2, lunch with scenic views, and arriving at the cabin on time with no worries about our 18-year-old car. But driving along the mountain roads, we found little color in the trees, ate at a roadside stop with views of a bridge being built, and arrived at the cabin too early.
At each turn I was disappointed. But I also felt God whispering to me, Disconnect from your expectations and reconnect with me. So I turned the trip over to Him…sorta. I was actually doing pretty good until the car's Check Engine light came on and I noticed one of the tires was approaching flat status.
But you know, that roadside café was friendly and the food was good. The rental agency did let us in the cabin an hour early. And while the first two days had thunderstorms that shook the mountain, the third day brought a warm sun, a clear blue sky, and Fall colors more beautiful than we had hoped for.
…for your journey belongs to God.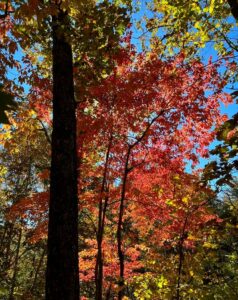 In the end, even in the midst of disappointment, trusting our Heavenly Father with the journey was the right course. He never left us and we never left His side. We didn't get everything we expected. We got much more…a Time Out to be still and reconnect with Him.
We returned home—Check Engine light and all—far more rested and relaxed than we had been in a long time. And that was a good thing, for our normal responsibilities were there waiting for us…as well a leaking refrigerator waterline that caused part of our basement ceiling to collapse and an innocent bathroom scale I would accidentally kick and utterly destroy. 3
Sometimes we need a break to relax, reconnect with God, and remember that our journey belongs to Him and He holds us close…always.
Ciloa Forever!
Chuck
Chuck Graham is Founder and Executive Director of Ciloa, an international ministry devoted to encouraging others and teaching them how to encourage one another. He is also an author and speaker. Chuck and his wife, Beverly, live in Lawrenceville, Georgia, USA. Learn more about Chuck and Ciloa at www.Ciloa.org.
Footnotes: (1) From Time Out!, A Note of Encouragement by Shane Hale, 8-06-2023. If you missed it, you can read it here…www.Ciloa.org. (2) Fall is the term of choice throughout the Deep South of the United States. If you happen to be from New Zealand, Australia, or the United Kingdom, it's more commonly known as Autumn, as I've been corrected on previous occasions. (3) I swear it was an accident and had nothing to do with the weight I gained.
Pictures: Banner: Together, photo by Chuck Graham, 2023. (1) Mountain Road, photo by Chuck Graham, 2023. (2) A New Day, photo by Chuck Graham, 2023. (3) God's Beautiful Day, photo by Chuck Graham, 2023.